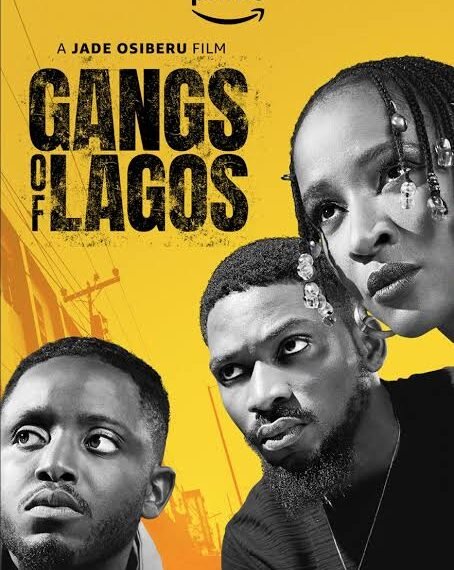 The recently released Nollywood movie "Gangs of Lagos" has struck a chord with audiences in Lagos and beyond. Produced by Jade Osiberu in collaboration with Amazon Prime Video, this film is a poignant exploration of the rampant use of thugs by politicians in Lagos and other states in Nigeria. With its timely narrative and powerful performances, "Gangs of Lagos" has been generating buzz on social media and in the streets, making Jade Osiberu a force to be reckoned with in the Nigerian action genre.
In this article, we will delve deeper into the film's storyline, characters, and production, and explore its significance in reflecting the harsh realities of political thuggery in Lagos.
Relatable Storyline: "Gangs of Lagos" tells the story of Obalola Akande, played by Tobi Bakare, a young boy growing up in the streets of Isale Eko, Lagos. Under the mentorship of gang leaders, Obalola is drawn into the world of thuggery, which ultimately shapes his journey into adulthood.
The film portrays the life of lower-class Lagosians and their involvement in the pipeline of violence that is often orchestrated by politicians for their own gain. This storyline resonates with many Lagosians who have witnessed the use of thugs in recent elections, making the film's narrative all the more relevant and thought-provoking.
Powerful Performances: The cast of "Gangs of Lagos" delivers compelling performances that bring the characters to life. Tobi Bakare, who also played the lead role in Osiberu's previous film "Brotherhood", shines as Obalola, showcasing his talent as a versatile actor. Adesua Etomi Wellington portrays the character of Gift, Obalola's sister, with depth and authenticity, while Chike Osebuka, an Afro RnB singer making his acting debut, impresses As Ify, Obalola's brother. Notably, the film also features child actors who are given ample screen time to showcase their talents, a departure from the norm in many Nollywood productions.
Maleek Sanni, who plays the young Obalola, has gained recognition as a content creator with the group "Ikorodu Bois", known for creating parody versions of movie trailers. This inclusion of young talent adds depth to the film and underscores Osiberu's commitment to storytelling.
See>>> Brotherhood Movie Review: A Thrilling Twist on Twin Brothers Tale
Relevance to Current Events: One of the striking aspects of "Gangs of Lagos" is its relevance to the political climate in Lagos. The film's plot raises questions about the time-travelling prowess of Osiberu in addressing crucial political issues that affect Lagosians, particularly in the aftermath of recent elections. The narrative of the movie closely aligns with reports of election violence and vote buying that have circulated on social media platforms. This timely portrayal of the harsh realities of Nigerian politics adds a layer of authenticity to the film and resonates with audiences who have experienced these issues firsthand.
Controversial Casting: The casting of Toyin Abraham, who plays the role of the gubernatorial candidate of the opposition party in "Gangs of Lagos", has stirred controversy due to her real-life political activities. In January 2023, Abraham faced criticism for declaring support for the APC, the ruling party, which conflicted with the character she portrayed in the film. Many fans, especially the younger generation who supported the opposition party "Labour Party" in the Lagos State gubernatorial elections, were disappointed by this inconsistency.
Some critics on social media expressed their discontent, stating that using Abraham as the opposition candidate didn't align with the film's narrative of political thuggery in Lagos, where one party has held power for many years. However, Osiberu defended her casting choice, stating that Abraham's performance was solely based on her acting skills and not her personal political beliefs.
The controversy sparked a debate on the role of actors in political activities and their responsibilities as public figures. Despite the controversy, Abraham's performance in "Gangs of Lagos" was widely praised, further cementing her status as a leading actress in Nollywood.
Production Value and Direction: "Gangs of Lagos" boasts high production value, with visually stunning cinematography and well-executed action sequences. The film effectively captures the gritty streets of Lagos, showcasing its unique cultural richness and challenges.
Osiberu's direction is noteworthy, as she skillfully navigates the delicate balance between showcasing the glamour of Lagos and portraying the harsh realities of political thuggery. Her bold storytelling choices and attention to detail are evident throughout the film, making "Gangs of Lagos" a standout addition to the Nollywood action genre.
Social Impact and Cultural Significance: "Gangs of Lagos" has made a significant impact on Nigerian society and beyond. The film has sparked conversations about the role of political thuggery in Nigerian politics and its detrimental effects on society. It sheds light on the manipulation of vulnerable youths by politicians for their own gain, and the violent consequences that follow.
The film also highlights the need for electoral reforms and accountability in the Nigerian political system. Furthermore, "Gangs of Lagos" has been praised for its diverse representation and inclusion of young talent, paving the way for a more inclusive and progressive Nigerian film industry.
Conclusion
"Gangs of Lagos" is a compelling Nollywood movie that reflects the issue of political thuggery in Lagos and Nigeria at large. With its relatable storyline, powerful performances, timely relevance to current events, controversial casting, high production value, and social impact, the film has garnered attention and praise from audiences and critics alike. Jade Osiberu's skillful direction and storytelling have solidified her reputation as a leading filmmaker in Nollywood, and "Gangs of Lagos" stands as an important addition to the Nigerian film industry, shedding light on crucial social and political issues while entertaining audiences with its gripping narrative.
Behind the Scenes