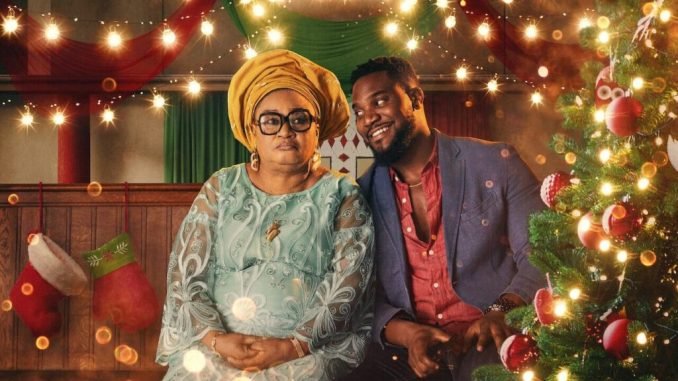 Kunle Afolayan has done it again with his latest movie, 'A Naija Christmas'. Released on December 12, 2021, this 2-hour 1-minute film is Nigeria's first-holiday movie, and it truly lives up to the hype. In this review, we'll take a closer look at the plot, themes, and cast of this dramedy.
Plot
The movie tells the story of three brothers, Ugo, Chike, and Obi, who are all trying to make their mother's desire of becoming a grandmother a reality, especially with the Christmas season around the corner. The film takes on themes like classism, gender, and faith, to depict Nigerian society and a contemporary Christmas celebration in Lagos.
The story starts with a shot of Rachael Oniga (Madam Agatha) at the 'classic women meeting. The women are brainstorming about their church's forthcoming Christmas gala. The shot moves to her three sons, who are trying to help their brother, Obi, pull off a befitting engagement with his girlfriend Vera. Unfortunately, all their efforts went down the drain, as Vera turned down the proposal, setting social media agog, with the hashtag #Mugurejection.
Madam Agatha got wind of the situation during the meeting and couldn't handle the shock and faints. Typical of the average Nigerian mother, Madam Agatha can't wait to become a grandmother and so manoeuvred her way into making the boys promise that they would bring a girl home for Christmas.
Madam Agatha hashed a plan with an arm-twisting proposal for her sons, one intended to nudge them toward marriage and eventually parenthood. Whichever one of them secured a future wife by Christmas would inherit the family home.
See Also:
This Lady Called Life: A Beacon of Hope for Nollywood's Film Quality
Kambili: The Whole 30 Yards Movie
Love is War: A Political Drama with a Twist
Themes
'A Naija Christmas' is a didactic and romantic, family dramedy that reveals the unique features and aspects of Nigeria's Christmas celebration. It exemplifies the contemporary Yuletide celebration where families leave their busy schedules to reunite and celebrate the season together. The movie is laced with music and a little bit of choreography.
It merges the different classes obtainable in Lagos City. The producers were able to recreate what seemed like a real-life concert in the Ghetto, which was not staged managed, as is common in many Nollywood movies. Another great aspect of the movie is the fact that it captured the locations and differences between the haves and haves not.
Cast
The cast of the movie includes Rachel Oniga, Kunle Remi, Segilola Ogidan, Efa Iwara, Abayomi Alvin, Linda Osifo, Ade Laoye, Mercy Johnson-Okojie, Carol King, Lateef Adedimeji, Uzoamaka Aniunoh, and Jude Chukwuka.
Segilola Ogidan, who played the role of Ajike or Ajiks baby fondly called Ugo, is not a new face in Nollywood. Her role was phenomenal; combining singing and acting, her subtle church girl character was well portrayed in every bit and action. The 31-year-old Nigerian actress and producer, who is popularly known for her role as Tonye in 'The Men's Club', was born in Arigidi Akoko, Ondo State. She's the writer…
Conclusion
'A Naija Christmas' is a movie that Nigerians can be proud of. The plot is relatable, the cast is top-notch, and the themes are relevant. Kunle Afolayan has once again shown that he is a force to be reckoned with in Nollywood. If you haven't watched this movie, it's available on Netflix.